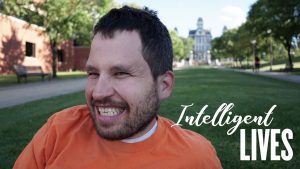 A friendly reminder that the Intelligent Lives Michigan premiere is right around the corner! Join us this Sunday, October 7, 2018 from 2 PM to 4 PM at the Berkley High School Auditorium.
Date: Sunday, October 7, 2018
Time: 2:00pm-4:00pm
Location: Berkley High School Auditiorum: 2325 Catalpa Dr., Berkley Michigan
We are very excited to premiere this film starring Micah at Micah's alma mater! Please bring your family and friends to this meaningful evening of Disability Pride, Inclusion and the Beloved Community. This is your chance to see Micah in Michigan before he flies back to Syracuse to work on Monday morning!
Micah's story is featured in this groundbreaking film that redefines and transforms our perception of intelligence and imagines a fully inclusive world.
There is no better way to spend a Sunday afternoon in honor of Disability Awareness Month!
Learn more about the film here: https://intelligentlives.org/about-film
Let us know if you'll be able to make it here: http://m.facebook.com/events/1782781701817817/?ti=icl
"INTELLIGENT LIVES challenges what it means to be intelligent, and points to a future in which people of all abilities can fully participate in higher education, meaningful employment, and intimate relationshipss."