Micah's Family
Micah's mom, Janice Fialka, MSW, ACSW, is a nationally-recognized lecturer, author, and advocate on issues related to disability, parent-professional partnerships, inclusion, raising a child with disabilities, sibling issues, and post-secondary education. She is the Special Projects Trainer with Michigan's Early On Training and Technical Assistance (Part C of IDEA). Janice is also a parent, poet, a compelling storyteller, and an award-winning advocate for families and persons with disabilities.
A sought-after presenter, Janice has provided the keynote address and workshops at many renowned national, state, and local conferences throughout the United States and Canada, including the Zero to Three National Training Institute, International Parent to Parent, Office of Special Education Programs (OSEP) National Parent Centers, OSEP National Early Childhood, and Division of Early Childhood (DEC) of the Council for Exceptional Children (CEC).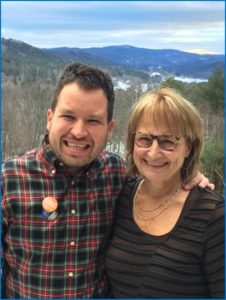 Janice conducts workshops for schools, human service organizations, and parent and advocacy groups. In her primary keynote address and trainings, she reflects with sensitivity, humor, and compassion on the challenges and possibilities facing parents and professionals as they seek to build successful working relationships on behalf of children with disabilities. Janice speaks from both her unique vantage point as the mother of a child with an intellectual disability and as an experienced social worker of 40 years. Janice has an engaging ability to teach, empower, and stir hearts and minds.
Janice, is also available for keynote addresses and training workshops based around The Dance of Partnership between parents and education professionals.
Micah's sister, Emma Fialka-Feldman is currently an elementary school principal in Boston. She is a graduate of Mount Holyoke College where she studied Critical Social Thought and Early-Childhood Education. She recently received a Masters in Education through the Boston Teacher Residency Program. She is interested in inclusive education practices, the relationship between a sibling with a disability and a sibling without a disability, and immigration policies. She blogs at emmaff.blogspot.com.
Micah's dad, Rich Feldman, is a community-labor activist and writer. He is a board member of the James and Grace Lee Boggs Center to Nurture Community Leadership and Detroit City of Hope and enjoys talking with parent groups about disability justice, pride and inclusion.
Micah's Friends, Colleagues, Staff, and Circle of Support
Oliver Hersey is a friend of Micah's since high school.
I really enjoy working with Micah and have learned a lot about disability history and politics through my conversations with him. One of my favorite activities that we've done together was visiting the disability history museum in Buffalo. I got a lot more out of the visit because Micah is so knowledgable about disability rights from his work teaching courses on disability and inclusion at SU. More broadly, I appreciate that through self-direction Micah has greater self-determination and can decide who his support staff are and what types of support he needs. He also has decision-making power over things like paying us fair wages for our work.
– Laura
What I have enjoyed about working with Micah most is his fun personality. Micah has a great sense of humor and is always making me laugh. Micah continues to take on new challenges in his life and does so with an optimistic attitude. I have enjoyed the flexibility of working with Micah and his excitement and motivation for trying and learning new things. A few things Micah and I have worked on together include learning to read food labels and training for a 5k in the Spring. Micah is also very appreciative of the work him and I do together and I look forward to helping him  his goals in the future.
– Miranda
Working with Micah has been such a rich experience. Micah has pushed me to become more organized and detail-oriented in my schedule-making than I ever thought I'd be. Micah and I have gone to Syracuse basketball games, a Paint Night and competed in trivia together. Micah's attention to detail helps me in providing assistance as he knows exactly what he needs. He consistently pushes himself and me.
– Dylan