The Dorm Case
Micah's Dreams to Go to College
Like many of his "friends, Micah's dream was to go to college. In 2003, Micah and several other students with intellectual disabilities began "sitting in" on regular classes at Oakland University (OU) through a Transition Program sponsored by a local school district, in collaboration with the university. During the next few years, Micah took two buses to the campus each day, attended classes, actively participated in student organizations and extracurricular activities, volunteered in the Student Activities Center and the childcare center, and was known as a "OU student". In 2007, the university initiated a new program called OPTIONS which allowed Micah, and other students with intellectual disabilities to continue learning as students at OU. The program required full tuition for classes, while maintaining a full course load.
Soon Micah began talking about his NEW dream: to live on campus. He had visited some of his friends in their dorms and stayed with them for several overnights. He also helped his sister, Emma move into her dorm. Micah saw all of the advantages to on-campus living: no two hour bus rides every day while hanging out with his friends in the dorm at night and on weekends.
In 2007, he applied to move into the dorm and his application was accepted. He was given a move-in date and paid the initial deposit to hold the room. Within a few weeks, he received notification that he could not live in the dorm because of "university policy" regarding the so-called definition of a degree-seeking student.
This led to a two year long struggle during which Micah met with the Vice President of Student Affairs and the University Board of Trustees. He garnered the support of fellow disability activists, family, friends, OU's Student Congress, OU faculty, staff, and students who wrote letters, signed petitions, held rallies, testified on Micah's behalf at the Board of Trustees (BOT) meetings, and attended his hearings. Micah learned new skills about how to work with controversy, deal with discrimination, build a community, and remain a strong advocate.
The university administration was unrelenting so Micah joined with Michigan Protection and Advocacy Service, Inc (MPAS) to sue OU for violation of his rights. After several depositions and hearings, the Honorable Judge Duggan of the U.S. 6th District Court ruled on December 23, 2009 that OU had denied Micah housing based on "prejudice, stereotypes and/or unfounded fear of persons with disabilities." He ordered the university to let Micah move into the dorm.
On January 4, 2010, Micah moved into the dorm with the support of students, his family, and friends—and with the media near by recounting his story to the nation. Micah's favorite quote has always been "A community that excludes even one member is not a community at all" by Dan Wilkins. Micah values his community for many reasons, particularly because they supported him and recognized that---Micah is a student!
Details of the historic case, the timeline, news articles, and video clips are found below.
---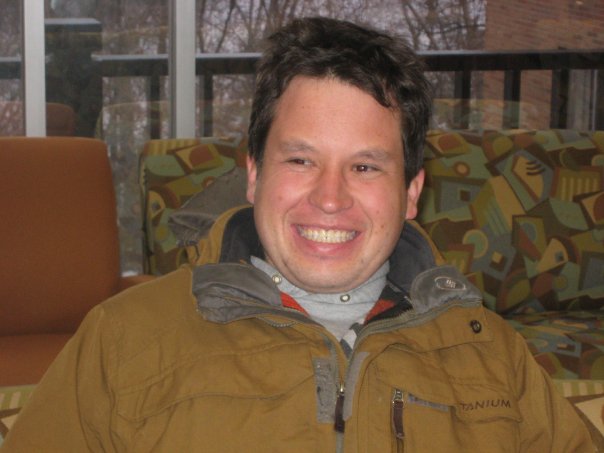 "I have learned that it is hard to fight battles for justice and inclusion. I also learned that when we create community we can change the world. This struggle will help many other people in colleges across the country. I hope that other students with disabilities continue to dream big and fight for what they believe in."
- Micah Fialka-Feldman after learning he was allowed to move into the dorm
"Congratulations Micah. It is a great victory, not only for you, not only for the disability movement, but for the "beloved community" movement in our country. Thank you for keeping your eye on the prize and for keeping Martin Luthers King's dream alive."
- Grace Lee Boggs, 94 year old activist (www.boggscenter.org)
---
Timeline
A chornological timeline (most recent coming first) of Micah's dorm case:
March 9, 2010
Micah Reflects on Dorm Life, Oakland Post
January 4, 2010
Micah moves into his dorm room at Oakland University (OU)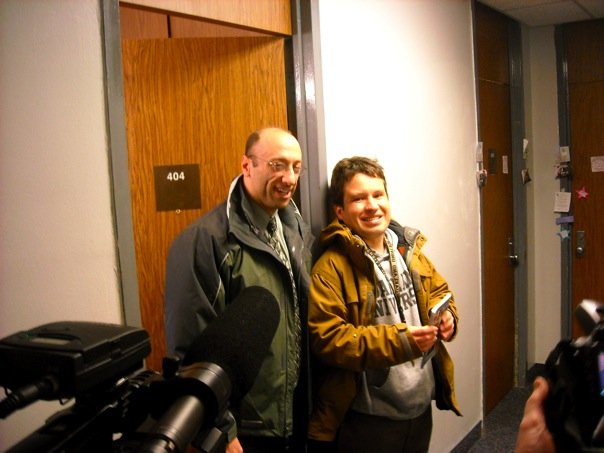 Micah with his lawyer Chris Davis, of Michigan Protec-
tion and Advocacy Service (www.mpas.org), in front of
his dorm room at OU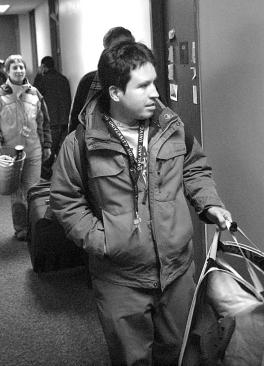 Micah moves into East Vande-
nberg Hall at Oakland University
with help from his sister, Emma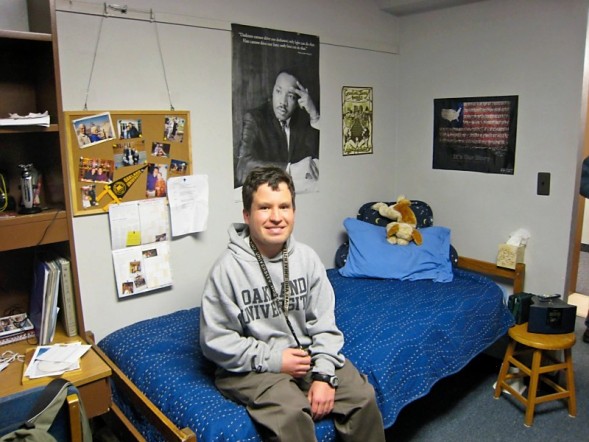 Micah in his dorm room
Publicity
"Courtroom to dorm room" by Masudur Rahman of Oakland Post (Oakland University''s Independent Student Newspaper)
"Disabled OU student moves into dorm after judge's ruling" by Linda Shepard of CandGnews.com

"Disabled man moves into OU dorm" by Jerry Wolffe of Daily Tribune, Jan. 6, 2010

Videos
Micah Moves, In Students Talk About What this Means for the Campus - Oakland Post

For more press coverage for the Judge's ruling: see Media
---
December 30, 2009

OU announces it will not try to remove Fialka-Feldman from his dorm, but will appeal part of the decision to try to make sure that OU will not be required to provide housing to future students like Fialka-Feldman

Publicity
"Letter to the Editor: A response to the Micah Fialka-Feldman coverage" by David Garfinkle, OU Professor of Physics and President of American Association of University Professors. The Oakland Post, Jan. 12 2010

"Letter to the Editor: Reponse to 1/12/10" by Mary Beth Snyder, Vice President for Student Affairs and Enrollment Management. The Oakland Post, Jan. 19, 2010
---
December 23, 2009

U.S. District Judge Patrick Duggan grants a permanent injunction and requires Oakland University to allow Micah Fialka-Feldman to live in a campus dormitory. OU violated the Rehabilitation Act of 1973, when it refused to provide a reasonable accommodation to waive its Housing Department's rule that students must be "seeking a degree" to live on-campus. The Court found OU had failed to conduct an "individualized analysis" of Micah's reasonable accommodation request and it cannot rely, as it did here, on "prejudice, stereotypes and/or unfounded fear" of persons with disabilities when analyzing the reasonableness of such request.

To read the entire opinion and order written by Honorable Patrick J. Duggan click here
In an e-mail Micah's parents recognized those who came before Micah and who fought for the civil rights for people with disabilities:
Recognizing the Leaders who came before us In April 1977, seven years before Micah was born, over 100 disabled activists "sat in" at the Federal Building of the Department of Health, Education, and Welfare in San Francisco— refusing to leave until the rules and regulations of Section 504 of the Rehabilitation Act were signed. Section 504, modeled on Title VI of the Civil Rights Act of 1964, prohibited discrimination against people with disabilities in federally funded programs.
Nearly four weeks into the sit-in, HEW Secretary Joseph Califano finally endorsed the regulations. The demonstration, led by Judith Heumann still remains the longest sit in of a federal building, and sadly, very few of us know of this event.
Judge Duggan ruled that Micah could live in the dorm based on Section 504. Today we remember those who courageously refused to be silent, who sang, hummed, and signed "We shall not, we shall not be moved!" during that month long sit in. Their demonstration and determination have opened many, many doors since 1977, including Micah''s door to the dorm.
Micah has been tenacious over these two years and he has received incredible support of many friends, faculty, the disability community, and others who cheered him on, over an over.
---
December 17, 2009

Hearing is held at US District Court with Judge Patrick Duggan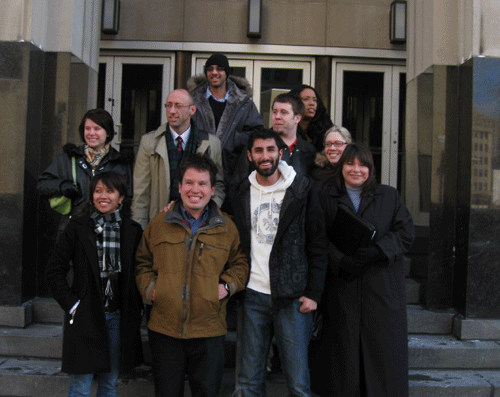 Micah and supporters in front of the court house
---
NOVEMBER 2009

Fialka-Feldman seeks summary judgment, and files permanent injunction to live on campus in winter 2010
---
November 18, 2009

Friends of Fialka-Feldman hold a rally at OU—Students supporting Students
Video
---
FEBRUARY 2009

Judge denies preliminary injunction, case continues.

Publicity
"Disabled student continues fight for dorm space" by Jerry Wolffe of The Oakland Press

---
January 13, 2009

Preliminary injunction at Eastern District Federal Court House in Detroit, Michigan.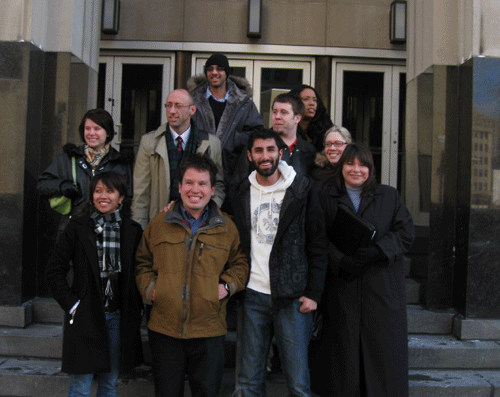 Micah, his lawer, Chris Davis, and supporters in front of the court house OU
---
DECEMBER 2008

Fialka-Feldman files preliminary injunction to allow Fialka-Feldman to live on campus while the case goes on.

Publicity
"Micah Fialka-Feldman, Oakland University student with Flint ties, is part of widely publicized lawsuit claiming disability discrimination" by John Foren of the Flint Journal, Dec. 17, 2008

---
NOVEMBER 2008

Fialka-Feldman files lawsuit with Michigan Protection & Advocacy Service's lawyer Chris Davis, to change policy.
click link to see complaint
Publicity
"Discrimination lawsuit filed against Oakland University" by Jerry Wolffe of The Daily Tribune
---
November 19, 2008

OU Student Congress holds a student rally for Fialka-Feldman's support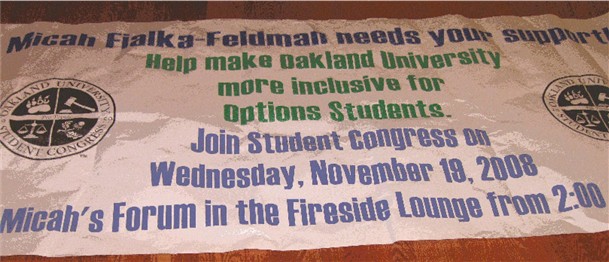 ---
November 5, 2008

Fialka-Feldman and many supporters—family, students, faculty, activities, friends, including OU student body president and vice president—address BOT again, speaking in support of changing the policy; BOT does not discuss the topic.

Publicity

"Student With Disabilities Takes on Oakland University" WDIV 4 Detroit
"Disabled man fights to live in OU dorm" by Jerry Wolffe of The Oakland Press

Videos

"Student Fighting for Dorm Room at OU" WJBX Fox 2 Detroit

---
SEPTEMBER 2008

OU Student Congress unofficially extends support, with various members collecting signatures for a petition in his support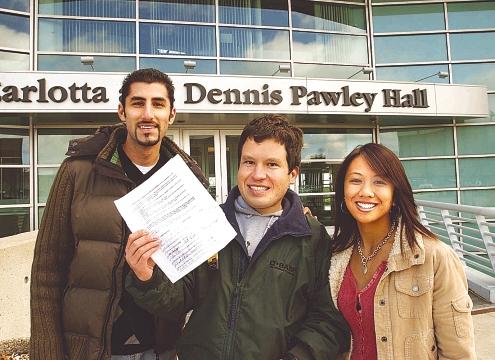 Micah with friends and Student Congree supporters, Andrew Bashi and Kristin Dayag
holding his petition with over 1,000 OU student signatures
---
September 24, 2008

Fialka-Feldman told policy will not be changed
---
September 17, 2008

Fialka-Feldman addressed OU Board of Trustees (BOT) for the first time; BOT asks OU to review its policy
---
Summer 2008

Fialka-Feldman waits until fall for campaigning because campus will be more active then
"Student says university changed rules to exclude him" by Sean Garner of The Oakland Press

---
May 2008

Fialka-Feldman is told the policy will not be changed
---
Apirl 2008

Fialka-Feldman meets with Mary Beth Snyder, Vice President for Student Affairs and Enrollment Management at OU & Lionel Maten, Housing Director at OU, to try to change housing eligibility policy
---
Fall 2007

Fialka-Feldman applies for winter 2008 housing
Fialka-Feldman's campus residence application initially approved
Fialka-Feldman is told he can't live on campus

OPTIONS program begins at Oakland University, with Fialka-Feldman as one of the first batch of participants
"Special-needs student tastes college life in new inclusion program" by Sharon Luckerman of The Detroit Jewish
"Disabled man living his dream" by Daily Tribune