Store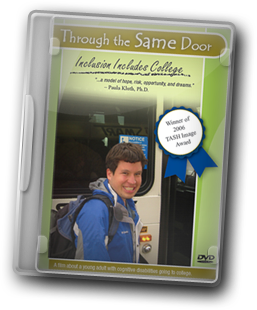 Through the Same Door:
Inclusion Includes College
A FILM BY PAUL ROSSEN - 25 MINUTES
PRODUCED AND DISTRIBUTED BY: DANCE OF PARTNERSHIP PUBLICATIONS
RICH FELDMAN, JANICE FIALKA, PAUL ROSSEN
Winner of the 2006 TASH Image Award This inspiring film documents the new movement of fully inclusive education by exploring one young man's desire for a life without boundaries.
As a high school student, Micah wanted the college experience, and he got it. See how it's done, learn how it works, and witness how Micah's journey challenges us all to reexamine what we believe possible.

Note: This DV D is Close Captioned for the Deaf and Hard of Hearing
Order Through the Same Door DVD for personal use:
$30 per copy (plus shipping).
Order Through the Same Door DVD for Institutional use:
$65 per copy (plus shipping).
Be sure to note which version of the DVD you want (the price is the same for either one).
---
Books
Parents and Professionals Partnering for Children With Disabilities: A Dance That Matters
By Janice M. Fialka, Arlene K. Feldman and Karen C. Mikus
Foreword by Ann P. Turnbull


Order
Parents and Professionals Partnering for Children With Disabilities
$27.95 per copy
(plus shipping).

Written from both the parent's and the professional's points-of-view, this book is rich with stories, examples, and practical suggestions. Using dance as a metaphor, the authors provide a developmental approach to understanding and forging positive adult relationships while showing concrete ways to advocate for and with children.

Read what people are saying about the book.
---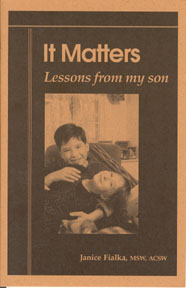 It Matters
Lessons from my son
by Janice Fialka, MSW, ACSW
It Matters: Lessons from my son is a collection of poems and prose written by Janice Fialka, a social worker and mother of two children, one of whom has developmental disabilities. Her writings honestly describe the range of feelings and experiences of being a parent of a child with special needs. She writes about inclusion, use of labels, the power of support groups, and talking to siblings about special needs. She also includes suggestions for professionals. It Matters: Lessons from my son is full of honest emotions and insights for both parents and professionals.
What people are saying about It Matters: Lessons from my son:
"I want you to know what a profound effect your writing had on me as a writer and parent. Thank you." - Susan Astor, Parent, New York
"It Matters is a wonderful book. Students in my class on the Psychology of Exceptional Children love it because the poems and essays draw them into the world of a family of the special child in a way that no textbook does. Student evaluations rate it as the most enjoyable and significant reading in the course." - Larry Lilliston, PhD, Professor, Department of Psychology, Oakland University

"This book will have a profound effect on graduate students, staff, and parents. Janice has shared with us deeply personal material and the gift of her writing talents. We have all learned and been changed by her." - Barry Schumer, MSW, ACSW, School of Social Work, Wayne State University.
Order It Matters
$12 per copy (plus shipping).
*
---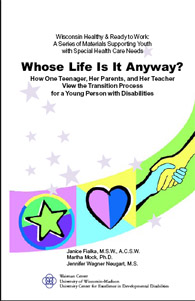 Whose Life Is It Anyway?
How One Teenager, Her Parents, and Her Teacher View the Transition Process for a Young Person with Disabilities
co-authored by Janice Fialka,
Martha Mock, and Jenny Wagner Neugart
This publication is a unique exploration of the emotions and relationships between three key transition partners: Becky, the youth; her mother, and her teacher. It includes talking points for group discussion about relationship building and best practice in adolescent transition.
Outcomes include helping all partners raise expectations about what youth with special health care needs can achieve, how to meaningfully involve youth in the process and ultimately, how to better understand each participant's perspectives.
Co-authored by national trainer Janice Fialka; Martha Mock, University of Rochester; and Jennifer Wagner Neugart of the Waisman Center.
This book can also be electronically downloaded by going to: http://www.waisman.wisc.edu/hrtw/Publications.html .
"The perspectives of the student, parent, and a teacher are a wonderful idea. Your book gives lots of insight into the transition process. I really like the length of the book and the discussion questions. I will use this book in my transition courses. What a creative work!"

- Debra A. Neubert, PhD., Professor,
Department of Special Education, University of Maryland

"In your creative and insightful way, you have put together very powerful scenarios related to transition planning. I really like the way you blend the "procedural facts" with the emotions of each of the key stakeholders. You capture reality so well."

- Ann Turnbull, Co-Director,
Beach Center on Disability, University of Kansas
Order Whose Life is it Anyway?
$10 per copy (plus shipping).
---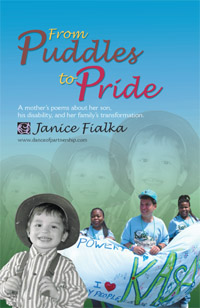 From Puddles to PRIDE:
A mother's poems about her son, his disability, and her family's transformation.
by Janice Fialka and music written by Stefan Kukurugya
This is a marvelous new addition to Janice's collection. The CD can be played at parent gatherings, professional trainings and workshops, to begin a meeting, or in the quiet of one's own home. The CD contains the three poems.
Camille Catlett (Frank Porter Graham Child Development Institute) describes the poems:
"The first poem, "Advice to Professionals Who Must Conference Cases," delivers powerful statements on the importance of compassion in sharing news to families. It is a beautiful, moving plea to professionals to be compassionate with parents who come to tortuous meetings to hear updates about their children."

"The second poem, 'On Having to Give Bad News: A Tribute to Professionals,' honors the caring individuals who work with children with special needs and who have the capacity to pull parents from the blazing heat that threatens to melt their hopes and dreams. The third poem, "From puddles to PRIDE," is a proclamation, shouted out on the streets of Chicago, at the first every Disability Pride Parade on July 18, 2004. On that street, the author says, "there are no puddles of shame—only sunshine—and pride!" Experience this joyful event that will change the perspectives of those who participate and those who watch from the sidelines."

"This amazing CD features children and adults of all ages, abilities, and cultural backgrounds. The stories of these spirited individuals will invite professionals to see and support children and families in new ways. As you watch/listen to these three poems, prepare to have your heart and mind opened to tender, passionate, and wise messages from the soul of a parent."

"The CD is a powerful resource for preservice teachers and practitioners. It can support us in choreographing different ways of collaborating so families are empowered and professionals too."

And Mary Beth Doyle, PhD, St. Michael's College, VT, writes:
"This CD is simply beautiful. I have always enjoyed your writing, but with the slide show too, it is over the top!"
Order From Puddles to PRIDE
Be sure to note which version of the CD you want (the price is the same for either one).
$10 per copy (plus shipping).