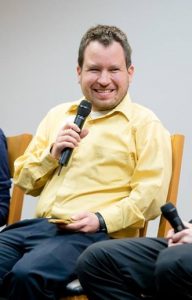 Micah Fialka-Feldman is a self-advocate, teaching assistant, outreach coordinator, national speaker, and pioneer who fights for disability-pride, justice, and inclusion. He is part of the first wave of adults with intellectual disabilities who have attended college and has been fully included in school and community. Micah's disability advocacy has a foundation in the creation of the "Beloved Community" and the notion that "A community that excludes even one of its members is not a community at all."
Micah earned a certificate in Disability Studies from the Syracuse University School of Education in 2015. Micah currently lives in Syracuse N.Y. where he co-teaches classes in inclusive education and disability studies. He is an outreach coordinator at the Lawrence B. Taishoff Center for Inclusive Higher Education. In May of 2014, Micah was appointed by President Obama to President's Committee for People with Intellectual Disabilities. He is featured in the upcoming documentary by Dan Habib, Intelligent Lives.
In 2009, Micah won a landmark federal lawsuit, Fialka-Feldman v. Oakland University Board of Trustees, to live in the dorms at Oakland University. After Micah had been accepted to live in the dorms in 2007, he received notification from the university that he could not live in the dorm because of "university policy." The administration argued that he was not considered a "degree-seeking" student. Micah sued Oakland University for violating his rights. After over two years of advocacy court proceedings, the Honorable Judge Duggan of the U.S. 6th District Court ruled that Oakland University had denied Micah housing based on "prejudice, stereotypes and/or unfounded fear of persons with disabilities." Micah moved into the dorms in January of 2010.
Micah visits the United States Capital
Micah and Dan Habib at Syracuse University
More Micah